We deliver eCommerce growth for FMCG companies & brands
.
#marketexpansionservices
What we do
NXT eCOM is your partner for omni-channel market expansion in fast growing e-commerce markets. We provide tailor made e-commerce solutions customized to setting up your brands e-commerce business presence, activating brand presence and growing sales.
With our network of NXT trading companies, our established infrastructure and a broad range of online market places we provide direct access to 9 key markets: Turkey, India, U.S.A., The Netherlands, Germany, Italy, Spain, France and the United Kingdom.
21
active FMCG brands (2020)
1 BLN
online consumer reach
Your eCommmerce
Partner
NXT eCOM activates new e-commerce markets and grows your online sales. We manage the omni-channel market expansion for brands and products.
Capturing e-commerce opportunities and growing online sales requires a capable partner who understands the market complexities but also has the know-how and infrastructure to sell your products online.
Partnering with NXT eCOM lets you benefit from our infrastructure, know-how, resources and resources to grow your online business and presence. NXT eCOM provides end-to-end e-commerce services from import of goods, online listing, online brand activation, brand store development, demand generation, market place management, data analytics to fulfillment logistics.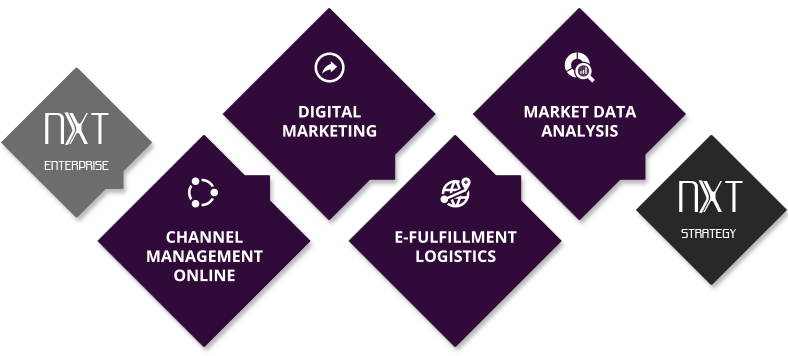 The NXT Value Chain
We support companies to launch and grow their omni-channel business in existing markets and expand into new ones.